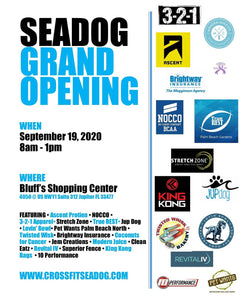 CrossFit SeaDog's Grand Opening Event - Saturday, Sep 19 8:00am to 1:00pm
Come support some of these local businesses September 19th from 8-1pm PLUS check out CrossFit Sea Dog, they are open and are having a grand opening event. They will have workouts at 7, 8, 9 and 10am for members and nonmembers wanting to try out their gym. The vendors who will be set up in the parking lot in front of the gym. Hope to see you there and yes, BRING YOUR DOG(S)!
It's going to be an AWESOME grand opening event!
Location: Bluffs Shopping Center, US-1 Jupiter / Juno line. 
---